Raising the bar on the semi-rugged notebook class, the new S410 is more rugged, slimmer and lighter than ever before. The all-new S410 boasts the latest computing innovations, including 8th generation Intel® Core™ i7 processor, enhanced graphics and multiple security options for greater flexibility. The S410 puts greater power and adaptability into the hands of mobile professionals across a range of industries.
Powered by Intel's newest Kabylake U-Series CPU's, the S410 is ideal for situations where complex tasks require blistering speed. The increase in CPU performance benefits professionals seeking enhanced productivity with speed and multi-tasking.
The optional Nvidia GeForce GTX Discrete GPU transforms the S410 into an ideal solution for specialised operations such as 3D graphics rendering, architectural drawings and CAD applications. The dedicated GPU performance benefits those tackling highly demanding tasks in highly demanding environments.
Impressive Display
Equipped with Getac's LumiBond® 2.0 technology, the S410 supports enhanced touch functionality (Touch/Rain, Glove or Pen mode) that caters to a wide range of work settings while providing exceptional visual performance and touch sensitivity. The S410 also offers an optional radiant Full HD display, enabling rich and vibrant viewing for those requiring greater clarity and detail.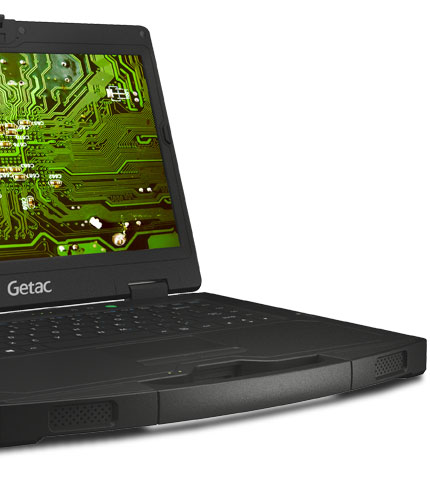 Continuous Power
The energy optimisation doesn't end there - The S410's hot-swappable battery design conveniently supports uninterrupted operation via an optional second battery. This industry-leading concept allows users to switch out the main battery without shutting down the unit, permitting you to power through lengthy computing tasks.